The Kubernetes Exam Simulator
Easy to learn and practice
Kubernetes

, with unlimited access

Kube4Sure is a platform that accurately simulates the Kubernetes exam environment - running on your local machine with unlimited access.

It enables quick and easy setup, helping students save time and focus on practicing with predefined Kubernetes clusters, up-to-date questions, and completed solutions.

Everyone can now practice and master Kubernetes certifications with confidence.

Get Started For Free

* No credit card required.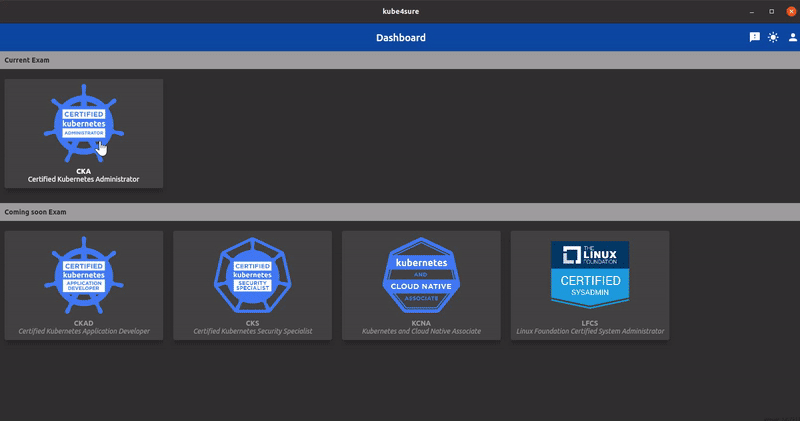 ---
Supports Linux Foundation and Red Hat certifications


Exams
Get ready for your Kubernetes Administrators Certification (CKA) exam and feel one hundred percent confident to pass with a realistic exam simulator and study guide right in your local machine (Learn more)
How
Kube4Sure

works

With Kube4Sure, all you need is our single OVA file. Simply import it into your VMware virtualization software, and you're ready to explore and get started.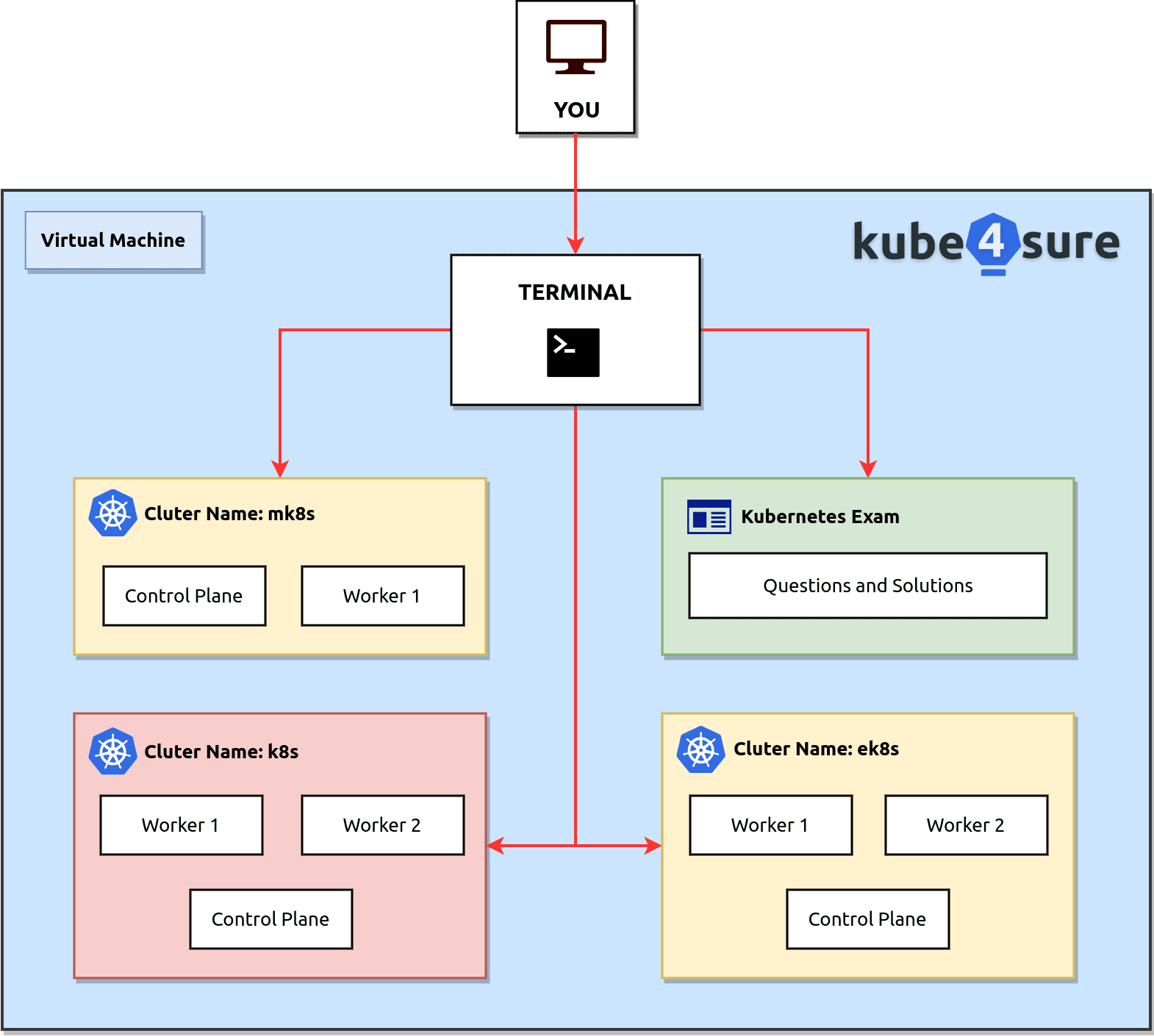 Why Kube4Sure?
The only and best platform
for
performance-based exams
Exam Simulator
Provides a 100% exam-like experience with pre-defined Kubernetes clusters matching the latest official exam version.
Unlimited Access
Enjoy unlimited access on your local machine with no time limitations.
Latest Updates
We update in accordance with the latest candidates' exam feedback. If they change the questions, our professionals will update our answers and questions immediately.
Lightweight and Fast
2 vCPU and 4GB RAM are required to run the platform on Linux/Windows successfully.
Proactive Support
Receive dedicated and proactive support until you successfully complete your certification.
Professional Network
Join a network of professionals committed to excellence and success in Kubernetes exams to advance your career path.
FAQs
How long is the validity of my purchased product?
Forever. Each exam simulator has full context with lifetime access. Make sure to purchase our latest version.
If you purchased the exam simulator more than 1 year ago but need the updates, please purchase the latest one.
Do you offer any discounts?
As we believe in fair and consistent pricing for everyone, no individual discounts or coupons are available. Whilst we will never say never - there are no planned sales or sales events in the foreseeable future.
What do I get when I buy a Kubernetes exam simulator?
Lifetime access, a 14-day money-back guarantee, an exam simulator with updated questions and solutions, proactive support until you complete your certification, and a professional network group to advance your career path.
Can I try Kube4Sure? Is there a demo version available?
Sure! Most Kube4Sure exam simulators offer a free, downloadable demonstration version for you to fully experience the features with 5-10 sample questions and completed solutions - no credit card required.
Can I share my exam simulator?
No. Sharing exam simulators is strictly prohibited. Kube4Sure licensing is tied to your account and initial login. If you reinstall your exam simulator, please reach out to us to reset your license.
Do you have any group buying or reseller programs?